Glossary
The following is a glossary written by the Human Rights Campaign to define several terms important to an understanding of LGBT+. While the definitions given are commonly accepted, it's important to note that many individuals have more personal interpretations of these words - what may be an acceptable definition for one person may not be accurate for another.
https://www.hrc.org/resources/glossary-of-terms
Short Film
Our club created this informational short film to raise awareness about transgender issues.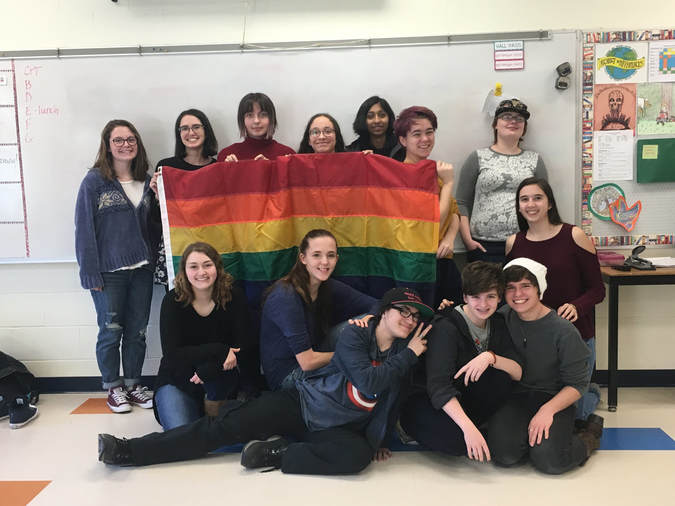 We are the Gay-Straight Alliance of Barrington High School in Barrington, Rhode Island. We meet every Thursday afternoon under the guidance of Ms. SB in Room 207 to discuss how to make our school a more accepting and open environment. We aim to provide a supportive safe space for all members in the club and to be a vocal presence in our school community. Our goals are to promote education, understanding, and acceptance.
Mission Statement
We, the Barrington High School gay straight alliance, aim to provide a safe space for all, regardless of gender or sexuality. We strive to educate the wider school community on LGBT+ issues as an effort to promote awareness and acceptance.
Meetings every Thursday afternoon @ 2:15pm in room 207!
Chair - Emily Sancomb
Public Relations - Lexi Anderson
Secretary - Abby Kaplan
Tech Guru - Rayna Mishra
Advisor - Mrs. S-B
Meeting Dates/ Calendar
Constitution
GSA Constitution
Programs
Stop Hate Stop Hurt
Stop Hate, Stop Hurt is a photo campaign founded in 2011. By including students and teachers in our photographs, we aim to present an image of our unity
STOP IT, NAME IT, CLAIM IT
Stop It, Name It, Claim It is a program we came up with as a way to appropriately call out hateful statements that students could possibly encounter during the day. Here are the simple steps:
Stop It: "Hey, don't say that!" This immediately halts the conversation and indicates that something isn't right. include stop signs
Name It: "That's offensive." Whether it's racist, homophobic or something else, naming it helps the speaker realize that what they said is not a joke.
Claim It: "That's not okay with me." Claiming the problem as your own makes it more personal. This is an issue that doesn't just affect that group of people, it affects everyone, and the speaker needs to know this.
Being an Ally
Being an ally really boils down to three important things:
Embracing the Differences

You don't have to be LGBT+. You will have had different life experiences than, say, your gay friend. That doesn't make either experience less valid or important. Just listen to other people and be open to respectful conversation!

Your activism doesn't have to be the same as the people around you. You don't have to be at the front of the picket line, or even in the GSA, in order to be a helpful ally.

Wanting to Learn

It's 100% okay to not know stuff, and to ask questions. No one will think any less of you.

Being educated about LGBT+ issues and willing to educate other people is one of the most
important parts of being an ally.

Expressing Vocal Support

It's important that if you see discrimination, you speak up and make your viewpoint known.
Your voice as an ally carries a lot of weight!

Do your best to make your LGBT+ friends and acquaintances know that they have your support!
Ally Award
A tradition that our club has started in recent years is presenting an Ally Award. We choose a faculty member who embodies the true spirit of an ally through acceptance, open-mindedness, and an awareness and sensitivity to the classroom environment. Through presentation of a certificate and recognition in a ceremony at the FaculTea, we recognize and honor this individual.
EXCEPTIONAL ALLY 2017: Mrs. Bergevine
EXCEPTIONAL ALLY 2016: Mr. Scott
Mr. Scott started working in the BHS English department in 2002. He makes a concerted effort to address students' needs and establish a safe and comfortable environment.
EXCEPTIONAL ALLY 2015: Mrs. Pickford
Mrs. Pickford started working in the BHS English department in 2001. She consistently makes an effort to include and highlight LGBT+ issues in her curricula and classroom discussions.