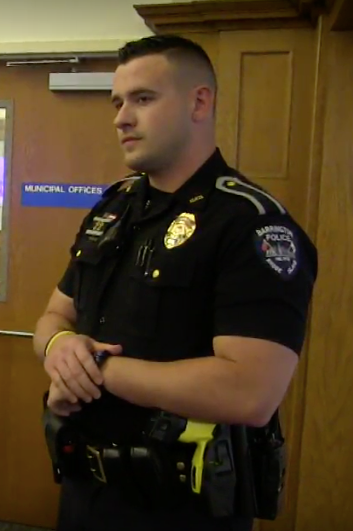 The School Resource Officer's mission is to foster a strong partnership between the Barrington school department and the Barrington Police Department. The primary goal is to provide a safe and positive environment for all students, staff, and parents. The School Resource Officer will attempt to reduce juvenile crime through law enforcement, education and prevention programs, community involvement, building design, and security. The School Resource Officer will work with students to build trust and break down barriers between the police and our youth.
The Barrington Police Department has assigned Patrolman David Wyrostek as the full-time School Resource Officer (SRO) to the Barrington School Department. Officer Wyrostek is primarily assigned to the Barrington High School where his office is located. Officer Wyrostek also visits Barrington Middle School, Hamden Meadows School, Primrose Hill School, Sowams School, and Nayatt School for an extended period of time on a daily basis. Officer Wyrostek has been with the Barrington Police since 2017 where he has been assigned to the Patrol Division. Officer Wyrostek grew up in Riverside Rhode Island and strived to become a Police Officer from a young age, following in his father's footsteps who is a retired and highly decorated East Providence Police Officer. Officer Wyrostek is a certified SRO by the National Association of School Resource Officers (NASRO).
As a new member of the Barrington Schools Community I look forward to building positive relationships with the students, staff, and parents. It is important that we work together to build a safe, secure, and encouraging learning environment. My main priority is to make sure all of Barrington's Schools are the safest place possible for the students and teachers who occupy them every day. I welcome any feedback you may have to help me achieve this goal. For more information, you can contact the Barrington Police Department directly, or you can reach out to Officer Wyrostek via his contact information listed below.
It is important that our students, as well as our community, should beware of alarming on social media posts, conversations, or suspicious activity on and off school grounds. Please use the see something, say something protocol as a guideline. We strongly encourage you to report concerns to the proper authorities
Police (401) 437-3935, Confidential Tip Line (401) 437-3933, #seesomethingsaysomething
In the event of an emergency contact 911.
Respectfully,
David J. Wyrostek
Patrolman/School Resource Officer
Barrington Police Department
100 Federal Rd, Barrington RI, 02806
401-437-3930
dwyrostek@barrington.ri.gov